Free Ground Shipping on Orders over $99!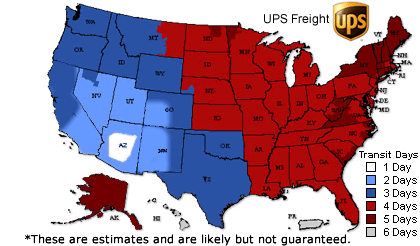 How long will it take to ship my order (transit time)?

The above map shows estimated delivery dates or estimated days in transit for ground shipping in the United States. Please remember that the transit times are in business days. Please allow for weekends and holidays. This does not apply to special orders, made to order products, or products that require special freight requirements. Each product will have a description of the shipping time.

After purchase, you will be emailed the tracking number for your order.

Need it faster? Please contact us and we will arrange your products to be sent overnight, 2nd day air, or 3 day select. Additional charges apply.


1-866-240-8659